Hello and welcome once again to everyone's favorite day of the week!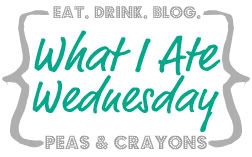 Seriously I will never understand why looking at food gives people (myself included) such pleasure. Who ever coined the term "food porn" was dead-on.Anyways, we are past the mid-way point of summer (insert panic attack here) and my first year of University is coming faster than I'd like. The whole moving-to-another-town and starting hard-as-balls school and making new friends is cause for serious anxiety. No, I don't handle stress too well. Sure people are like "Oh University is the best time of your life!" and then there's my mom, "Oh yeah I nearly flunked out my first years, the transition was super hard for me".
Thanks mom I feel a million times better now.
Right now I'm really trying to live one day at a time, Carpe Diem if you will, and enjoying every moment of freedom and tranquility that I have left. Because God knows all hell will probably break loose once I'm in university. Doing homework + trying to make friends + being away from home = mental breakdown guarantee. As if being socially akward isn't weird enough.
ANYWAYS lets focus on more important and happier things okay? Okay!
Breakfast:
So you see I've been trying out this new thing called Intermittent Fasting. Now total disclaimer here, I've never read any books on the matter (other than recommendations from Mark Sisson and other paleo/primal authors like Robb Wolf and Art De Vany) but there are enough articles on the internet for every human on earth to read and then some and the concept isn't rocket science. There are all kinds of variations on the topic of Intermittent Fasting, which Sisson sums up in his 7-part article, which I found fascinating.
Really I just like changing things up and going against the current. I eat a mostly paleo diet with occasional masa harina and white rice (traditional Latin American staples) maybe once or twice a week a few times a month. Once I learned about Intermittent Fasting I figured I had nothing to lose. IF is the idea of fasting for a specified period of time and then having an eating window after the fast. Different programs vary the duration of the fast but my preferred schedule is a 16 hour fast followed by an 8 hour eating window. In a nutshell, I have my last meal at 8pm,  skip breakfast and eat lunch at around 12pm. I'll talk more about this in another post, since I know this is not what you came for.
That being said, lets introduce lunch!
PaleOMG's Rutabag Bacon Breakfast Hash. Holy Shitake mushrooms this is freaking amazing. Like honestly go make it now. Before trying this dish I was not a fan of rutabag in the least, in fact for me it was one of those foods that goes down clinging to your throat (read: gag-reflex activating). But this, this is something else. I like to chop up some fresh tomatoes from my garden and garnish with half an avocado. Pure heaven.
I usually have a snack/mini-meal sometime at around 3pm to hold me over till lunch. I love my Choco-cado Pudding or a green protein smoothie. Or fruit. You really can't go wrong with fruit.
I try to eat a normal dinner although sometimes I'll snack my appetite away. I really hate it when that happens because I prefer larger, more formal meals although it's not normal to eat dinner at 3pm. Le sigh.
Tilapia pan-fried with a coconut crust and some sauteed brussel sprouts alongside.
I've had lots of fun cultivating my garden this year as well and have gotten quite the bounty from it. Likely due to the hot temps and frequent thunderstorms.
I look so bad in this picture but I really wanted to show you guys how absolutely MASSIVE this zucchini is. 4 pounds, 11 ounces. It's like a new born child! To be dead honest I don't know what to do with it because there are 3 more of the same size on their way! The cucumber is also super long and totally delicious and that's coming from a former cucumber hater. Sorry, I didn't grow up eating raw cucumber.
Happy Hump Day Friends!