If there's something I've noticed as the years pass its that you learn to treasure your vacation time a heck of a lot more.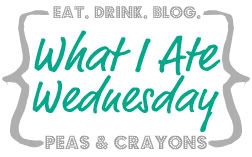 I've been waiting since last September when school started for the peaceful bliss and carefree days of summer. I could hardly wait to dust off my bike and start using it as my primary method of transportation.
Most of all I couldn't wait to start doing CrossFit whenever I wanted again. The heat has been real this summer and my workouts have been crazy sweaty to the point where when I finish I look like I took a swim with my clothes on. Gross but true.
To change things up a bit I tried my first yoga class today which was wonderful, although I kept zoning out and the instructor began to think that I was bored. I've never been tested but I'm pretty sure I have ADD because I can literally not sit still or maintain my attention span! Our CrossFit gym had an instructor come in at noon and there weren't many people there so we had more one-on-one time with her which was great.
In other news I have an Instagram account now where I post daily pictures of my eats (occasionally my dog makes it on there as well). My username is healthandwellnessyolo; yeah I know lame but I couldn't think of anything else.
Lets start this party then shall we?
Oh this is also a good time to tell you that I got myself a juicer! Yes to the effing way people! It's a Jack LaLanne Power Juicer like the one Sunnie has. He's beautiful so I thought it was appropriate to call him Jack. Or Chris. Like Chris Pine. "This is War" is the best movie I swear.
My go-to combo is:
1 apple
1 carrot
1 small beet
1 stalk celery
1/2 lemon
1 in. knob fresh ginger
1/2 cucumber
The Jack Lalanne is a centrifugal juicer, meaning that it isn't very efficient at juicing greens like kale and lettuce. To read about the differences between a centrifugal and masticating juicers, the Juicing Book has a good article on the topic.
Enough about juicing, lets get back to some solids:
This mornings breakfast was a fried egg, bacon, and an eggplant hash with egg whites. I needed lots of energy since I knew that I'd be biking 20 minutes to my CrossFit box, doing an hour of yoga, the WOD after, and then biking 20 minutes back. In the 33°C heat. Yeah.
Lunch didn't happen until much, much later. I actually ended up eating like four peaches and half a watermelon when I got home at like 3 pm (I left at 11am) because I was so darn THIRSTY. What can I say I like fruit.
My planned lunch turned into dinner:
Split Pea soup with chopped chorizo and spinach. I don't mind hot food in the summer really but I know some people do which is why I haven't posted the recipe for this delicious soup. Its a winner though so I might do it sooner rather than later.
Happy Hump Day everyone; can't wait to see what you are all eating!